There we were heading west on Interstate 80 and early arrival for our wilderness trip on the Middle Fork of the Salmon River in Idaho. The plan was possibly another short river trip before the Middle Fork if we could figure it out; or tour, since nothing was set. It was approximately 2 AM somewhere just into Wyoming when we pulled to a stop. We were partly on the interstate shoulder, partly on dirt and out of gas. It was blackness, apart from stars, devoid of light. You could actually see the Milky Way. The previous exit, some umpteen billion miles back, was uninhabited by an open gas station much less anything else. This was Wyoming east of Cheyenne after all. How do you get the occasional car or tractor-trailer to pick you up in the darkness? Whatís the appropriate signal? After marveling at the night sky and attempts at flagging down the sparse traffic it was time to sleep until morning. Within ten minutes, a spotlight that could only be the gendarmes brightened the inside of our traveling bedroom, van, carryall, canoe rack and tinted plus shaded-window transport. Yup, he was on special patrol for drunken drivers and could not take us to the nearest fuel. Itís federal. He has to log his drunken driver patrol hours and they were behind for their funding. We knew, with trillions of cars on Wyomingís I 80 that night itís likely heíd catch at least zero drunks but thatís the federal funding game. He called in a tow truck. About 45 minutes to 1 hour later here was a 5-gallon gas can attached to a driver with tow truck. He had come all the way from? Next morning, this morning, itís already daylight, whipped out National Geographicís "Driving Guides to America Ė The Rockies" guide to Montana, Idaho, Wyoming, and Colorado.
We were off on 1/3 of a 525-mile loop tour and headed for Grand Teton National Park then Yellowstone.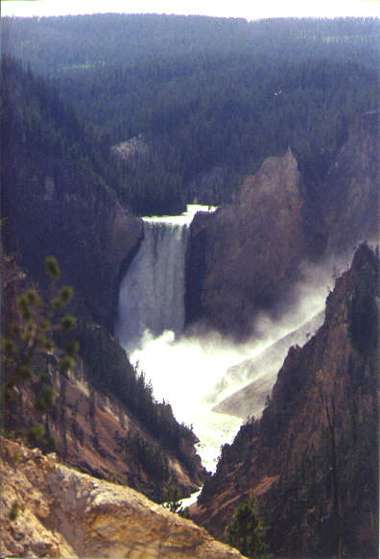 By mid-day the youthful 10 million year old Tetons made of 2.5 billion year old rock were before us. By nightfall, with a park tent site secured, a rangerís lecture on the night sky given beside a glacial lake was more then two of us could stay tuned in to. We had been up since 2 AM. I enjoyed its inclusion of Native American culture. Can you find the Big Dipper, North Star and Council of the Chiefs? Next day we paddled part of the Snake River to a lake mirroring the Tetons and blustering heavy headwinds. It was an excellent muscle warm up for the Middle Fork. Make sure your sunscreen covers everywhere. I missed a spot and this altitude is unforgiving to un-tanned skin. By evening we had driven "next door" to Yellowstone and were at Old Faithful Geyser. Crowds were gone. Geyser went up in the setting sun.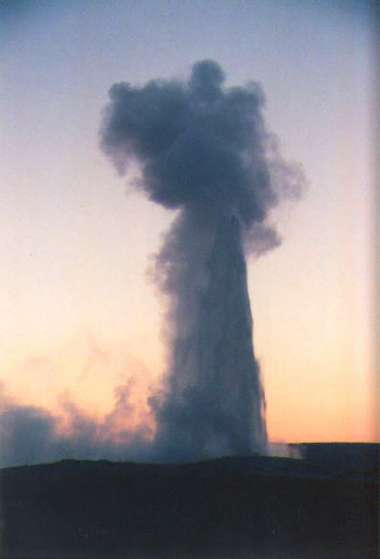 We slept in a stolen parking space among the minimal facilities cabins, hostels, workerís quarters? Anyway, there was a separate washroom and we were just behind the main hall facility at Old Faithful. Next morning we did most of the tour around Old Faithful then several other hot springs, colorful pools, mud pots, geysers and wild buffalo or two.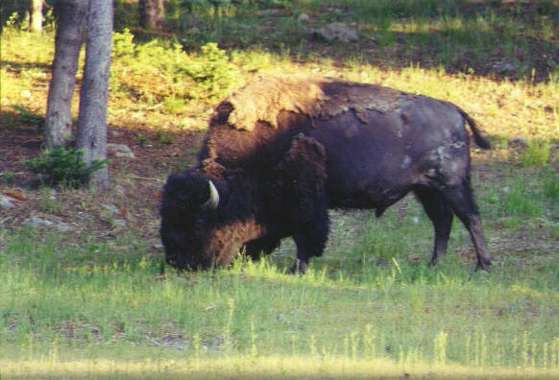 By evening, after dinner in a local restaurant in West Yellowstone just outside the park, we were headed west again toward our river trip meeting point at Stanley, Idaho. We stopped for the night at Henrys Lake State Park a few miles into Idaho. Arriving late, checking in with the stars, doing the shower and tooth thing, it was a surprise to see the lake to one side and mountains in the distance to the other the next morning.
We were exploring, looking for back roads. Found route A2. Miles and miles of hard packed graded dirt crossing enormous expanses of valleys between mountains. What a different place this is without millions of people and radically hectic lifestyles. Interstate exits are marked "Ranch 236". Where do they go? About 300 feet, then dirt roads, then perhaps only the ranchers know. Our roads took us through low mountains, into wide, wide valleys, past lakes and high mountains, twisting through high mountain passes. Slipped by a cowgirl on horseback convincing a reluctant steer to head back through the wire fence. Even past a few locals headed the other way. Donít know who was more surprised, them seeing our boats or us seeing anyone in this otherwise remote place. Then there were four moose charging from far off out of the valleyís expanse across an open area headed on a collision course. We stopped. They kept coming and coming toward our right. They slowed. Looked at our van. Over the barbed wire fence, three in front, one behind us. Perhaps they were running from the mosquitoes that were now attacking our van. Luckily we hadnít enough time to think in terms of opening a window for a better look. These things were big as nickels and serious about getting blood from the van? Slam-dunk. I mean serious.
In Stanley Idaho met some of our river trip folks at their motel. After dinner out it was "weíll see you at the put in the morning". One of us three, Greg, had the river permit. Be there early was the best bet if you wanted a chance to ask for specific designated river campsites. Got to the river access campground after nightfall and many miles down a long dead end graded path they gave a route number. We were up early and moved to the staging area. Despite our effort, twelve people showing up from multiple areas across the country does not efficiency make. We were the second to last group on the river this day. It maybe restricted access but still looked like a zoo all morning. We couldnít even get down to the river with rafts crowding a limited riverside area. Most of these rafts were taking up space instead of getting under way.
We were three rafts of 2, 2 and 3 people, 2 kayaks, 1 C-1 (looks like a kayak but is a canoe) and 2 open canoes. This would be my first wilderness trip with apparent unlimited food and beverages. I was unprepared and brought the usual, expecting self contained survival. Our first and only emergency was on the first day. We had two new oarsmen among the three rafts. Our threesome raft was moderately but steadfastly pinned on a bolder. Curt and I, the groups river elders, were on it with a fully extended throw bag, reasonable footing and cantilever angle. An all out pull and it was done.
This turned out to be a very congenial group. We enjoyed the grandeur of this place changing mile-by-mile, hiking though basically vertical, petroglyphs, good cuisine and eye-catching campsites for seven days. The weather cooperated with cool to lightly chilly nights, warm days with barely a cloud. Iíve never been on a river with tailwinds. This one blew us down river for six days. It made up for it the last day with very strong headwinds, the kind that have you paddling cross river in order to go down river or almost have you at a standstill in a strong down river current. Then there was the line of rain from clouds commencing behind and stretching forward to our left. My lunch comment was it would not rain on us until we got off the river and packed up. Got that one right. Good rapids, good scenery, good people, good weather, good hiking views, what more could you ask for.
A backcountry eatery just before it closed and a waitress obviously nervous serving 12 people seated all together brought goodbyes to our river group. Our waitress got it right though it took about three tries at getting the orders straight before sending it to the kitchen. We three vaníers were off for a day trip on a northern Idaho river called the Lochsa, plenty of good rapids. It followed route 12 through the mountains, making access easy. A days-end quick look at the Selway River takeout some 20-miles in on a graded surface and we were headed home for lack of group interest in further touring during the return trip. We had been unable to secure showers at the local campground. Up a twisting route 13ís northwest passage scenic byway to what seemed like a high plateau, we gassed up and had a late dinner at a pizza sandwich shop decked out in late 50ís early 60ís memorabilia and music in Grangville. I was double burger hungry with fries.
The following morning, feeling scruffy, we were unable to find a campground that would let us pay to shave and take showers. One wanted an overnight camping fee; the other needed an hour to finish cleaning the facility (mid-afternoon brought success). Morning had included breakfast and an engine oil change in Cascade, a major lumber town. Drove through the day into the night like many trips before. 3 AM awakened 2 Ĺ of us. Our helmsmanís falling asleep and side swiping a guardrail had removed the left front wheel, broken the disc break in two, blown out the left rear tire, bent various other parts and scraped down the left side bodywork. We skidded across the interstate under good control considering and stopped just past exit ramp 401 on eastbound I 80 in Wyoming. With hearts racing we collected ourselves. No serious injuries. We were off the highway on the shoulder and going nowhere. Looking back about 600 to 1,000 feet you could just make out the missing wheel. It was there in the semi-darkness in the "passing" lane. There was only one light in the area. It was near the exit. As we went for the tire it was enough to distinguish a small tow truck headed toward us, the first vehicle since we stopped. Talk about strange luck. I flagged it down. He asked if we had lost a wheel. He was out on a fuel line repair job. Looking at our van, out came his cell phone and a call for a bigger tow vehicle with flatbed. Heíd be back if he could. We had seen billboards for "Little America" from perhaps even Idaho. They kept coming mile after mile. Now we were in the hands of one of this combination truck stop and hotelís employees. It turned out to be a good experience. They treated us as though they appreciated our business, not like we had no choice.
After about an hour with two freight trains passing far away across the interstate representing most of the night traffic, we were carried back to the capitol city called Cheyenne. It was "Frontier Days" week in this town and big doings. Most of the city closes up on Wednesday to enjoy the festivities. Every hotel / motel is booked up. Our diesel mechanic tow truck driver persisted until he got us an overnight at the hotel. It may sound naive, but he really did work at it. Even offered to check with his wife about their second vehicle if we couldnít find a rental. You better believe youíre going to the rodeo if youíre in town during "Frontier Days". Was my first time since preteen. Enjoyed it. Saw proof positive that these cowboys are without doubt 51 cards short of a full deck. A lifestyle they must love. Itís a miracle any of them are anything short of hamburger meat. A few more sights about town, a delicious meal at LaCasta, a local Mexican-food restaurant and out came National Geographicís guide " The Rockies". We got lucky and picked up a cancellation on a car rental the first day, again by persistence from our mechanic. An afternoon trip took us to Ft. Laramie Historic Site. Pay the three dollars for the digitally recorded walking tour. At $3 each headset it was a bargain, informative and pointed out things you would not get on your own. The site is otherwise free. This was a central place in the westward movement during the eighteen hundreds. It was also part of the Oregon Trail. Off of a dirt road you have to ask about, a short distance from the fort among the sagebrush, thin prairie grass and small cacti, are ruts remaining from wagon wheels of settlers seeking new lives. We made sandwiches from fixings in our cooler. The distant fortís light-color reflection was all that drew attention in the twilight as I had dinner beside this trail cut through the plains.
There is something enjoyable about a city of 50,000 that knows how to throw a free breakfast shindig. The chefs and servers are plenty, flapjacks flying. Food tasted good, was served with pleasure, batter mixed in a cement truck. The entertainment is expected corny, the crowd having family fun eating on 10x2 plank benches atop makeshift wood legs. There is no sense of grime despite the 8 to 10 thousand served. They had enough volunteers here and at the rodeo that cleanup is almost completed as quickly as the crowd can dissipate. With free pancakes, ham, coffee or milk breakfast and entertainment on Cheyenne in a parking area near city hall plus city sites under our belts it was time to seek our fortunes on another driving tour while the vanís running gear continued to be fixed.
Early afternoon we headed south to Colorado. Passing just northwest of Denver we drove to the summit of Lookout Mountain to view Denver and the Great Plains to the east and Coloradoís Front Range Mountains west. Here, it is easy to see why settlers would stop in Denver. Having crossed an immense wilderness of open space, abruptly the reality of high mountains taunts. Like a towering Tsunami wave frozen before you, rising up to the sky from the vast ocean flatness of the plains, a question must strike every soul. Are you determined to proceed?
We spent the night at The Lodge in Blackhawk, CO, a new gambling casino hotel in what are the remains of the old mining towns, Blackhawk and Central City. Theyíre literally tucked, carved out of the hills set beside route 119. Most of the old Victorian gold rush era buildings now house casinos. It had begun raining hard and was now dark. Bedding down seemed appropriate. We arrived with our twice daily transport, Curt with his large army green laundry bag, Greg with his over-sized shoulder bag, mw with my twin assortment of hand carries and of course the cooler between us (a car trunk full). I waged and lost a quarter in a slot machine. Donít get what the thrill is. Felt like I was under a surveillance camera. They even knew what we had said coming up to the hotel floor in the elevator. Breakfast here, paid for with the room, was better then any we had directly paid for on the trip. All you can eat, omelets made to order, pancakes rapped around berries and apples, cereals, fresh fruit, coffee served in a semi-wine style glass. Elegance only interrupted by the alarm of a metal detector in one of the guest rooms.
The goal this morning is to find the "Oh My God Road" (closed in winter). We had decidedly failed the day before when our rental bravely attempted the dirt "road" past the wide graded hard pack, past the "itís probably still functioning" mine at the top of the mountain with the two slightly tilted gas pumps that maybe havenít worked in twenty years. Past the, we can see someone has been here recently because the drizzle has delineated a visibly fresh tire track: down the other side of the mountain and "tortuous Virginia Canyon to Idaho Springs". No, this canít be right. National Geographic would get sued for inviting a "normal" American down the single car width slope we were not sure we could get back up. It was covered with rocks 1 to 6 inches in diameter, just steep enough to be difficult without the current drizzle, boulder bump we had just cleared or steep drop-off. In fact the slope in front of us we were sure we couldnít get up. It would be work for a four-wheeler. Oops. Running out of gas, getting late and the reality we were without our camping gear. At least we had a high mountain view.
Today itís "Oh My God Road" for sure. Better planning. Ask any parking attendant in town where it is. It may not be marked but they all know. Yes, itís a twisting turning dirt road over the mountains. You have to give these folks credit. Weíve seen more roads with incredibly steep drop offs, no road-sign warnings and no guardrails. Of course, if you need warnings on these kinds of roads, youíd be buzzard bate anyway. Back in the coddled east this would cause terror and major traffic jams along with lawyerís delight.
(Arapaho National Forrest) The 14 Ĺ mile switchback drive up Mount Evans Scenic Byway, the worlds highest passenger car road, is well paved, worth the fee and climbs to within 130 feet of itís 14,264 foot summit. Actually, having no road warning signs or guardrails improves the panorama. Talk about a view, and wild mountain goats on their way to other peeks that are nonchalant about coming within 30 feet of onlookers. Itís early morning, about 9 AM, temperature about 45 degrees due to altitude. The wind is still; the vista everywhere deserves comment. We are well above tree line, alpine tundra or sheer rock face below, big cloud-dotted sky above and in front. A silent jet is clear and obvious above in the thin air at only about 15,000 more feet, a spec normally at its usual 30,000 feet.
The next stop was a ride on the narrow gauge Georgetown steam train, an 1800-engineering feat that makes tight curves and spirals over itself in gaining 638 feet. They throw in a tour of the Lebanon Silver Mine. We would see multiple occasions of very heavy rain on this vacation; this was the only time it interfered. Would you get into an open railway car in a cold, major downpour complete with lightning and low visibility for an hour or more, a storm that stopped traffic in one direction on I 70 due to a mudslide? Me either.
Headed north through the mountains toward Winter Park on switchbacks of route 40, a long climb in rainy conditions. It was late enough to stop for the night at the earliest opportunity under these weather conditions. We couldnít see the surrounding mountains this route was chosen for. This area is a winter ski resort. Our hotelís outdoor hot tub and heated pool were in order when the rain stopped.
Back to Cheyenne via Rocky Mountain National Parkís Trail Ridge Road, another park fee well worth the price. Though we utilized this "trail" as a pass through; it would be worth spending a day at minimum traversing the area. This realm of high peeks and huge expanses of alpine tundra viewed from their own vast high mountain perspective is not easily captured in the brief snapshot of passing through. These privileged vistas are not camera shots. They are experiences between the details of our focused eyes and the broadest peripheral awareness of our minds. Glacial canyons, rock walls dropping thousands of feet, alpine lakes, dense pine forests, meadows, moose and elk all part of the image; Milner Pass crossing the Continental Divide at 11,000 feet, Alpine Visitor Center at 12,000.
Cheyenne, one more motel night, vanís ready to go by noon and weíre homeward bound. Though I missed it, Curt says the surrounding night's hours of storms with multiple simultaneous lightning strikes was one to make ma nature proud (my job had been to get sleep from evening on to be ready for late night driving). Early morning toward that faint horizon glow that foretells daylight brought us into Peru, IL and a Piper Cub size airstrip encased in 8-foot high cornfields where my car had been waiting. I think they move the corn aside when they use the runway. Not a plane took off or landed either time we were there. In fact, where was that runway? Didnít see it from the 20-car parking lot. We were mostly efficient in moving my gear and canoe to my car. This is not simple considering we had been living in this vehicle for days and the rough packing to get everything needed into the van or packed in canoes for transport. We had taken something unfortunate and turned it into a positive. Better off for it, our delayed goodbyes were part early morning, part inertia and part unwillingness to create and end. Curt and Greg would continue east and I, well.
Just make two quick stops almost on the way home at places enjoyed before. It had occurred to me that not exactly pressed for time and perhaps unlikely to be in these areas soon, it would pay to drop into the Chicago Museum of Science and Industry and the Huntsville, AL US Space and Rocket Center. Theyíre both worth going to. Arrived at the Chicago museum before itís opening 9:30 AM. Plied its halls until closing 5 PM. Got a little lost getting out of Chicago since the only map I had, Northwestern States, was short on Chicago area detail. So were Chicagoís interstate road signs. Headed south until around midnight having decided I wouldnít pay $60 for a bed and shower at the few motels I stopped at. I had camping gear and there were campgrounds ahead on the AAA map. Now there was heavy rain. Got off I 57 at Ina, IL for a campground. Didnít find it but past the large correctional facility were signs for Wayne Fitzgerrell State Park Resort, AKA Lake Resort. No ranger, running water, fee or registration, just an outhouse and "Primitive (tent) Camping" under the trees. I had already done the "freshen up and tooth thing" at a rest area just in case.
Early morning about 8:00 AM did the birdbath thing at an interstate rest area, a shave and clean shirt, good as new. The rest area was clean and already had state workers doing their thing. Arrived at the Space Center around noon central time. Surprise, this under-publicized place is not only where our space program was initiated, it has built may of our space vehicles and completed the first American module for the current international space station. You get to see the main fabrication floors, though there are no space modules on them at the moment. The Center also houses one of our nations 2 space camps along with the museum displays, dome IMAX space education film and decommissioned space units. Perhaps one of the most telling observations is the more than Spartan facilities where these highest technology fabrications go on. Shoestring is probably a grandiose term for what must be NASAís operating budget. I have always criticized NASA for its totally inadequate marketing job. This austereness might be their reply, the moneyís in the product. Itís a chicken or egg first thing. How are they going to get better funding if Americans donít know how all this NASA generated technology impacts everyone daily? Or, how life in America at the beginning of the 21st century is a NASA driven technology creation. Stayed until closing 6 PM central time. Was home before midnight through some early-on view limiting heavy rain.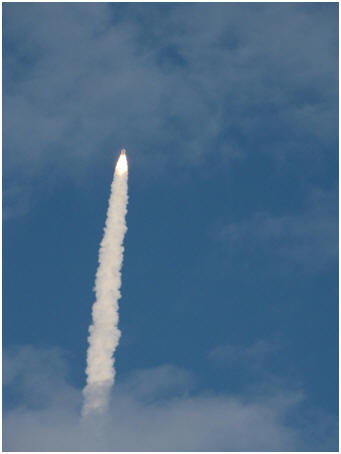 Next day around noon and under two miles from getting my tires rotated (20 miles from home) a thumping that didnít quite feel like road vibration had me headed across four lane of southbound I 85 just in case. Then the front left tire went. Onto the shoulder and mostly dirt, put on the donut. Twenty ponds tire pressure out of 60 and it was limp to the gas station ľ mile away. This donut had not been used in almost 12 years. Their air pressure was free but only partially working. Thirty ponds let me limp to Butler Tire. Just think, all those miles and distant exits, night driving and bad weather, the tire waits until just short of my tire store. Amazing. Time to declare this vacation ended. Iím a comfortable deep bronze to prove it.